About the College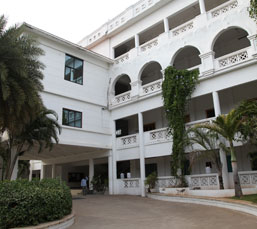 Established in the year 2001, the college strives to impart quality education in the field of engineering and technology through a stimulating and innovative environment. The college is recognized by AICTE, New Delhi and affiliated to Anna University, Chennai. Since inception, the college strives to establish itself as a world class nodal center of learning, research and training. In recognition of our commitment to quality education, the globally renowned British Standards Institution, London has conferred the college with ISO 9001:2000 certification complying with BS EN ISO9001:2000 standards just after three years since inception. The college is under the process of accrediting two of its undergraduate programmes namely, B.E., Electronics & Communication Engineering and B.E., Computer Science Engineering.
Vision of the Institution:
An active and committed centre of advanced learning focused on research and training in the fields of Engineering, Technology and Management to serve the nation better.
Mission of the Institution:
To develop eminent scholars with a lifelong follow up of global standards by offering UG, PG and doctoral programmes
To pursue professional and career growth by collaborating mutually beneficial partnership with industries and higher institutes of research
To promote sustained research and training with emphasis on human values and leadership qualities.
To contribute solutions for the need based issues of our society by proper ways and means as dutiful citizen
Our Values
Collaborative with industry/ R&D establishments for effective industry institution interaction
Zeal to excel in academic and R&D activities
Additional employment and career enhancement programs along with regular process/course works
Consultancy & industrial services for industry & business establishments
Entrepreneurial development programs
Quality Policy
Our college committed to achieve recognition as 'Institution of Excellence' by consistently providing quality education in the fields of Engineering, Technology and Management with professionalism and global outlook ensuring continual improvement
Our Quality Objectives
To be oriented towards achieving professional growth of our students by providing need based education of higher relevance to the country's progress in the field of Engineering, Technology & Management.
To endeavor to create a highly congenial learning environment conductive to academic and research pursuits.
To ensure the whole-sided development of personality along with academic achievements by organizing activities to develop character, leadership qualities and communication skills to our students.
To embed the institution with qualified, experienced and highly committees set of faculty crowned with a missionary zeal and single-minded devotion towards guiding the students beyond the text books into the realism of advanced study, inculcating in them the attitude of research and inquisitive nature.
To provide all the required academic facilities and freedom to the faculty to develop themselves professionally and to provide faculty development programs to hone their skills and talents and thus become better and proficient instructors.
To organize National and State level symposia, conferences and seminars o help the faculty and students to keep pace with the latest development in the field of Science, Technology & Management.